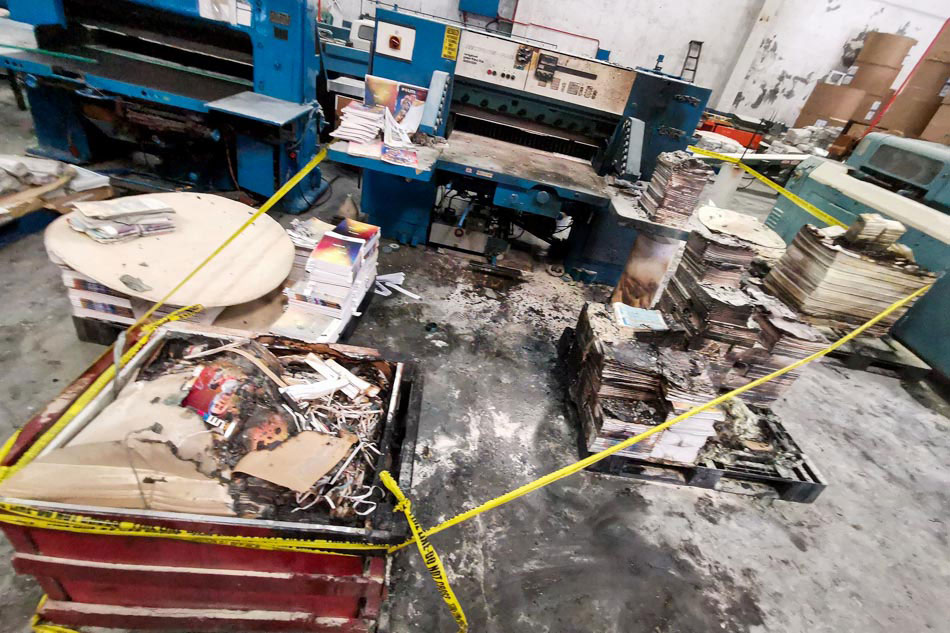 MANILA(UPDATE)– Vice President Leni Robredo on Tuesday condemned the arson attack on the printing house of Abante News Group, and called the act a "brazen assault on free press."
Four armed and masked men forced their way into the tabloid and website's Parañaque office and torched the printing machine and supplies there before dawn on Monday, leaving 2 employees injured, Abante earlier said.
Robredo's office urged authorities to "act swiftly on this matter and bring the perpetrators to justice."
"In the meantime, we send this message to all those who seek to curtail our freedoms through threats and violence: We will not be cowed. We will stand together and defend our freedom."
Opposition lawmakers, meanwhile, said the attack was an attempt to "silence the media."
"We believe that this is another case of trying to silence the media in doing their job of exposing the anomalies, in and out of government," Bayan Muna Rep. Carlos Isagani Zarate said in a statement.
"We strongly condemn this as we likewise condemn all attacks against the democratic rights of our people," he added.

The attack employs the same "harassment tactic that anti-democratic forces are using against indigenous people, especially lumads in Lianga, Surigao del Sur," noted Bayan Muna Rep. Eufemia Cullamat.
This "should not cause Abante and our media friends to back down, but instead band together and advance the right of our people for transparency and accountability," said Bayan Muna Rep. Ferdinand Gaite.
Abante "will not be cowed by this attempt to strike fear into our reporters, editors and staff," said its managing editor, Fernando Jadulco on Monday.
"Our commitment to hard-hitting journalism remains unshaken," he added.
The National Union of Journalists of the Philippines said the attack on a media outlet "underscores how deeply mired in the culture of impunity our country and people have become."
"Whoever ordered this attack and whoever carried it out obviously believe they stand little chance of being caught, much less punished. After all, so many crimes and human rights abuses remain unsolved, the perpetrators free to continue sowing mayhem," it said in a statement.
The media organization challenged the police "to prove us wrong and begin chipping away at the culture of impunity by swiftly getting the perpetrators of this attack and successfully prosecuting them."
The incident was the first violent attack against Abante since 1987, it noted.
The Philippine National Police said it does not have any persons of interest yet as investigation is ongoing.